OUTDOOR GROUP BOXING FITNESS CAMP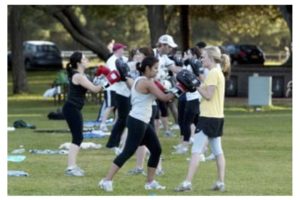 Mind Body Total  Fitness Outdoor Boxing Fitness Camps are a great way to have fun and make you accountable to your weight loss goals.
Our sessions are always different, so you're constantly being challenged.  We strive to create and environment where all ages and fitness levels can feel confident and motivated while achieving their fitness goals.   However, the groups are kept small so your trainer can still offer individualized care, guidance, and assistance.  Each session always contains a warm-up phase, conditioning phase, and a cool down phase.
By training outside, you can receive all the benefits of being in the open air: being outside in the sunlight can increase your vitamin D intake, the natural light can help regulate your internal body clock, resulting in better sleep.  There's no wait time for equipment, and outside the terrain of the natural earth can challenge your body to move in more diverse ways, keeping the sessions interesting, challenging and enjoyable.